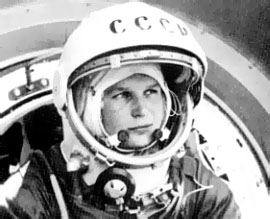 #StrongWomenWednesday: Valentina Tereshkova
Twenty years before Sally Ride became the first American woman to go to outer space, Valentina Tereshkova became a hero for Russia as the first woman ever in space. In 1963, Valentina was selected from over 400 applicants and five finalists to be the pilot of the capsule called Vostok 6. She spent nearly 3 days in space in June of 1963, and orbited Earth 48 times – that's more time spent in space than the combined times of all U.S. astronauts who flew before her! She was later presented with the former "Hero of the Soviet Union" award in recognition of her "heroic feats in service to the Soviet state and society."
It certainly required plenty of courage and confidence, and apparently significant skydiving experience, for Valentina to compete for the opportunity. She had a humble beginning, born in a small village in Central Russia, where her father farmed and her mother worked in a textile plant. Her family's lack of income and low social status required Valentina to leave school at age 16 to begin working. With determination, she completed her basic education through distance-learning courses while employed as a textile worker at a local factory like her mother.
In her early 20's, Valentina began skydiving after completing training at a local parachute club over several years. It was her expertise in parachuting and the confidence she developed through the activity that earned her the cosmonaut (the Russian equivalent of "astronaut") nomination in 1963. Valentina's cosmonaut training included lessons on rocket theory and spacecraft engineering, pilot training, and several physical tests like weightless flights and 120 parachute jumps. After successfully graduating from this rigorous program, Valentina was approved and ready to launch! Despite nausea and physical discomfort while orbiting, her space flight was successful, and Valentina returned to Earth ready to continue serving and inspiring her country in new ways.
After her career as the first female cosmonaut, she continued to show compassion for her country and its progress through political work and many patriotic appearances. She also graduated from the Zhukovsky Air Force Academy with distinction in cosmonaut engineering, and completed a doctorate degree in general engineering.
It's Valentina's repeated displays of the three C's of GEMS, plus her passion for education, achieving your goals, and serving as a leader that makes her a #StrongWoman to us!