#StrongWomenWednesday: Grandma Gatewood & Peace Pilgrim
Many backpackers, thru-hikers, and Appalachian Trail enthusiasts celebrate Emma Gatewood, better known as Grandma Gatewood, for being the first woman to solo hike the entire Appalachian Trail, from Mount Oglethorpe in Georgia to Mount Katahdin in Maine. Throughout her lifetime and during her 1955 thru-hike, Grandma Gatewood exuded courage and confidence. Her story of resilience and perseverance in the face of adversity and abuse is truly one for the ages. However, Grandma Gatewood has one female predecessor who also accomplished a full thru-hike of the A.T. – Mildred Ryder, who later adopted the name "Peace Pilgrim." Mildred did hike with a companion, Richard Lamb, but upon completion of the trail in 1952, she became the first woman to ever hike the entire Appalachian Trail. Read on for a double-feature about both of these incredible women!
Gatewood was born in 1887 to a farming family with 15 children in Ohio. When she was 19 years old, she married a 27-year-old, college-educated teacher who later became a tobacco farmer. Emma had 11 children, and she endured years of physical abuse from her husband for the sake of raising her family. His violent episodes broke her bones and bruised her spirit. Eventually, Emma successfully divorced her husband in 1940 – after about 34 years of marriage.
When her husband became violent, Emma found solace in the woods, where she would often run to from their home, seeking peace and safety. This was the beginning of her connection to nature. Years later, when Gatewood read National Geographic's earliest feature about the Appalachian Trail – inspired by the first ever thru-hiker, World War II veteran Earl Shaffer – she thought it would be great fun to try out the trail herself. The magazine had given her the impression of an easy, beautiful walk, with nice lodging along the way.
Emma Gatewood was 67 years old in 1955 when she said to her adult children that she was going to take a walk. They knew of her resiliency, so they did not question her. With her expectations so skewed by the colorful pages of National Geographic, she wore only Converse sneakers and toted a handmade sack with just an Army blanket and a plastic shower curtain for rain protection inside. She found herself lost in the woods early on during her attempt, and was told by her rescuers to "Go home, Grandma." She decided to begin in Georgia instead, and hike to the trail's northern terminus in Maine, a route which proved more fruitful. As she hiked she attracted attention and publicity all over, becoming quite the celebrity before she had even finished the trail.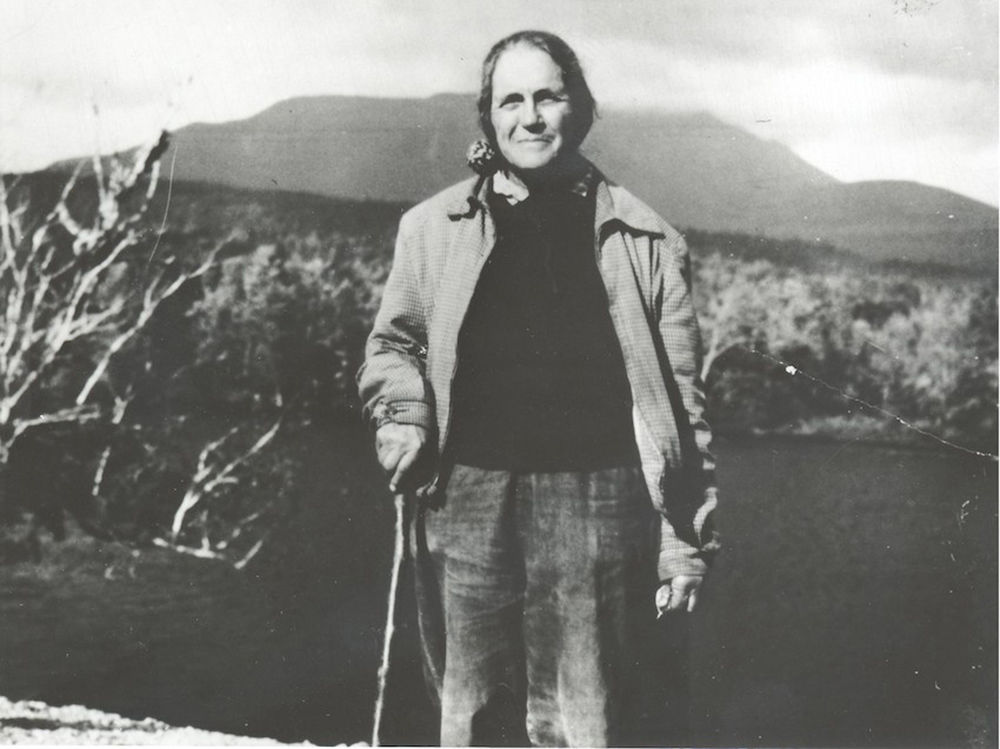 In 1955, Grandma Gatewood became the first woman to complete the A.T. alone in one season, and she returned to the trail twice more during the 1950's and '60's, becoming the first thru-hiker to "three-peat" the route. In the early '50's, Grandma Gatewood would not have heard tales nor read magazine features about fellow female hiker Mildred Ryder's success on the A.T., though.
Mildred was born in 1908 on a poultry farm in New Jersey, the firstborn child of a tailor and a carpenter. Her parents were German immigrants living in a close-knit community of other, similarly poor, Germans settlers. Mildred excelled in school, and flourished with the support of her community, who focused on instilling morality and peace in their youth by practicing those values daily. Her non-traditional upbringing could not keep her off the typical path of young women in the early 20th century; Mildred became "very much what they called a flapper in those days," and eloped with a businessman named Stanley Ryder in 1933. The marriage eventually dissolved, however, when Stanley was drafted in World War II and Mildred decided she could not support him due to her ardent anti-war stance which was influenced by her upbringing.
Mildred was in fact the first woman to hike the entire Appalachian Trail, and with a man who was not her husband, no less. Both facts led Mildred to be viewed as quite the rebellious woman in the conservative 1950's. Richard and Mildred introduced themselves as "Dick Lamb and Mil" to all whom they encountered on the trail and to the press. With that air of mystery about their journey, it's no wonder Mildred's historic hike quickly faded out of public memory. (There's even only one photo to be found of Mildred hiking – see below.)
She may not have been publicly celebrated for her accomplishment, but Mildred's time in the woods on the A.T. affirmed her commitment to her to spreading peace and morality – her childhood ethics. While on the trail, she envisioned herself making a pilgrimage of sorts across the U.S. to inspire and encourage those values in others. Thus the "Peace Pilgrim" was born. Mildred had walked the A.T. to find peace within herself, and now the woman known as Peace Pilgrim would walk across the country to spread it. She began in 1953, and walked discontinuously for 23 years and over 25,000 miles for the purpose of peace. Like Grandma Gatewood, Peace Pilgrim kept her mission simple: she carried only a toothbrush and a comb, and wore simple clothing that stated her purpose. Peace Pilgrim's message was just this: "When enough of us find inner peace, our institutions will become peaceful and there will be no more occasion for war."
You can learn more about Peace Pilgrim's story on this website so that she may be celebrated and revered just as Grandma Gatewood and so many other incredible #StrongWomen deserve.